Check out this interview that Three8six.com did on Shea's life and Surf Camp.
CLICK HERE TO READ FULL INTERVIEW
[youtube]http://www.youtube.com/watch?v=7XQmCMVOzd0[/youtube]
[youtube]http://www.youtube.com/watch?v=SrzvlrghrpY[/youtube]
The boys just got back from a Panama boat trip with an allstar crew of surfers and photographers.  Here are some photos of the trip up on Transworld Surf.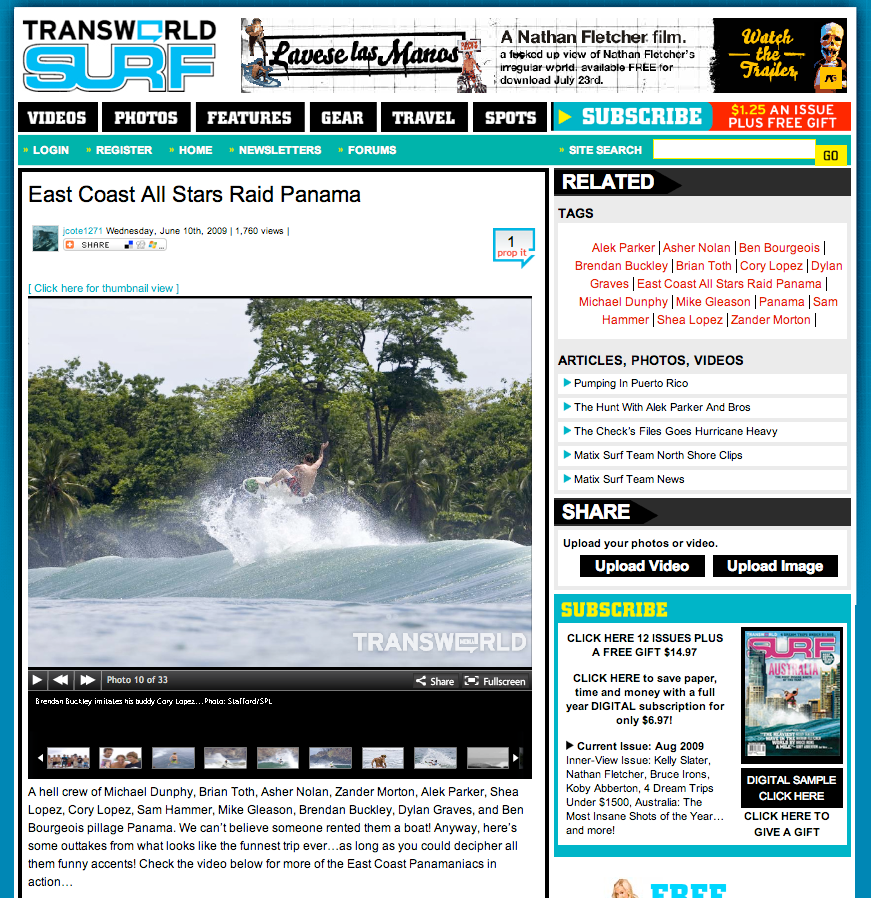 Here is a recent photo on JACKASSWORLD of Street Bike Tommy wearing the zoo keeper tee after a failed attempt at riding a motorcycle down a flight of concrete stairs.  ENJOY!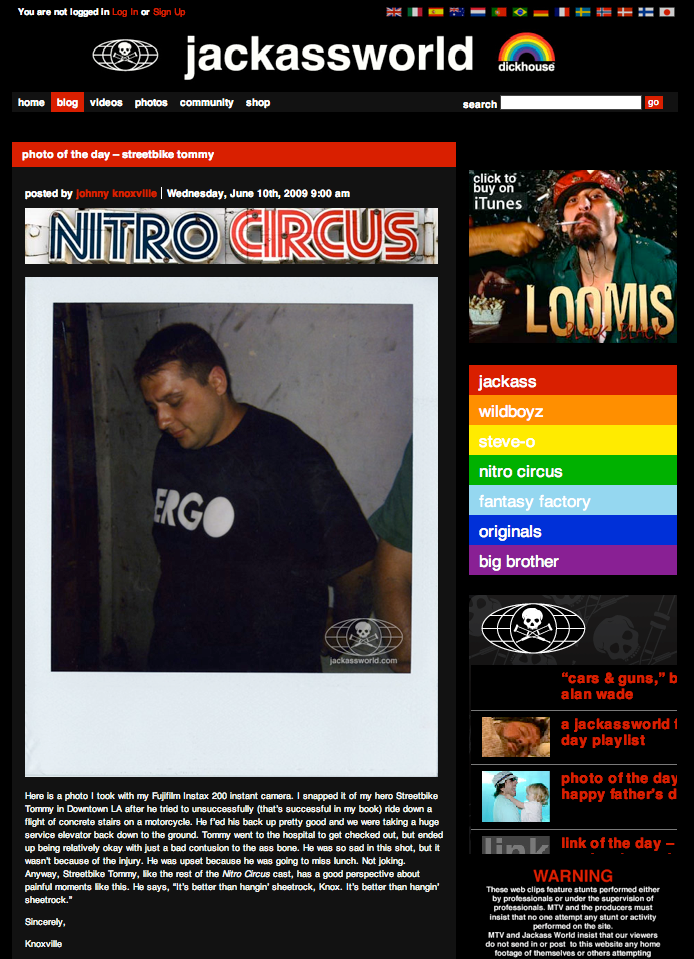 Here are a few photos of Andrew Cannon at back to the banks from the SKATE PARK OF TAMPA WEBSITE.  If you didn't know, S.P.O.T. is hosting THE MOAT SHOW on August 19th.  THE MOAT SHOW is a skate industry trade show that is open to everyone 100% free!  CLICK HERE FOR MORE INFO.  ERGO will be on hand with a ton of free gear. Rumor has it that ERGO entertainer, Street Bike Tommy will be on scene under the ERGO tent.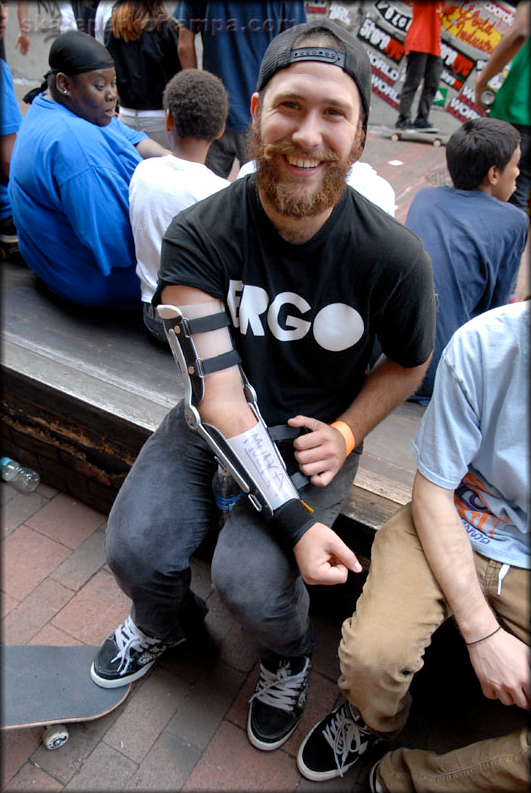 Stop by Asylum Surf  in Oceanside and pick up some fresh ERGO.  While your there… Check out the Shea Lopez ERGO window.
ERGO is now avaiable at Tres Palmas Surf Shop in San Juan.  Stop by and grab some gear… tell Carlos we sent you!  Here are some photos of Josie Graves, Carlos and Account Manager Junior Torres hooking up the front windows.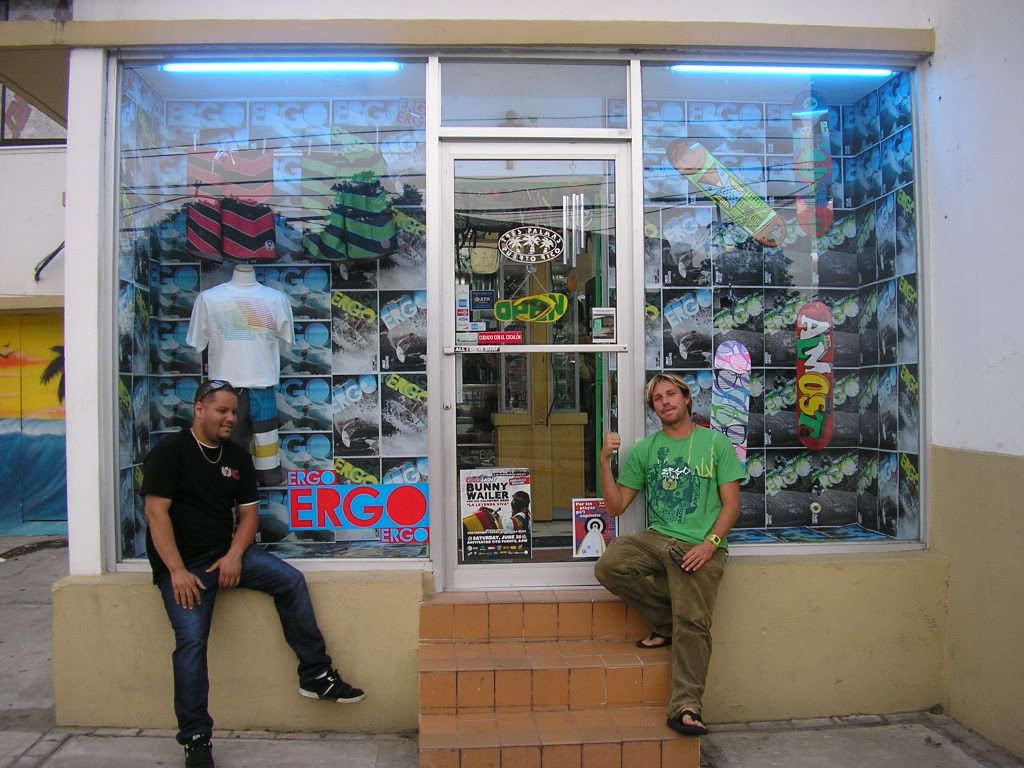 Here is a new tee design featured in the latest edition of BLISSS MAGAZINE. CLICK HERE to check it out online free!
Chuck Barend, ERGO's  New England account manager (pictured far right) sent over this photo from their contest last weekend.  Yeaaahhh Chuck!  Looking good in those ERGO jerseys!
ERGO was on scene for the grand opening of  ZILLA SURF and SKATE.  Stop in and grab some fresh ERGO gear.  Photos by Jungend George