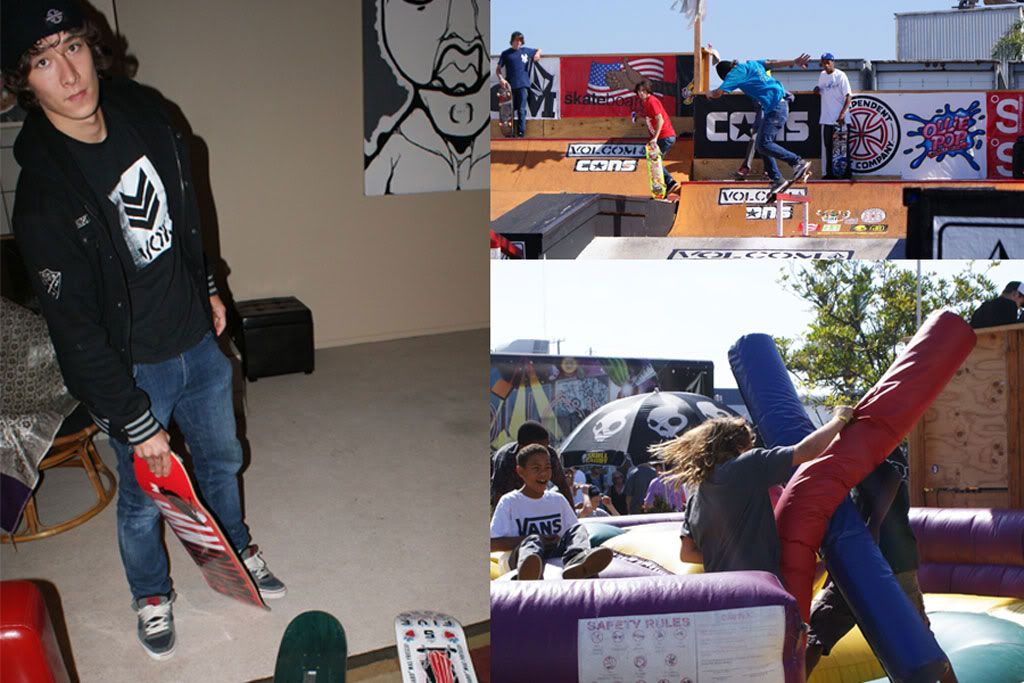 Last week, the Missourian MammerJammer Shawn Hale said goodbye to the to the deafening sounds of wild locusts and 30degree weather of Joplin and said hello to Pedro's Tacos and the warm sunshine of San Clemente, California in preparation for the Costa Mesa Leg of the Damn Am! He was greeted by one of the most handsome and clever Mexicans this side of the border and also by a box of fresh poppin' decks from his pals at 5boro.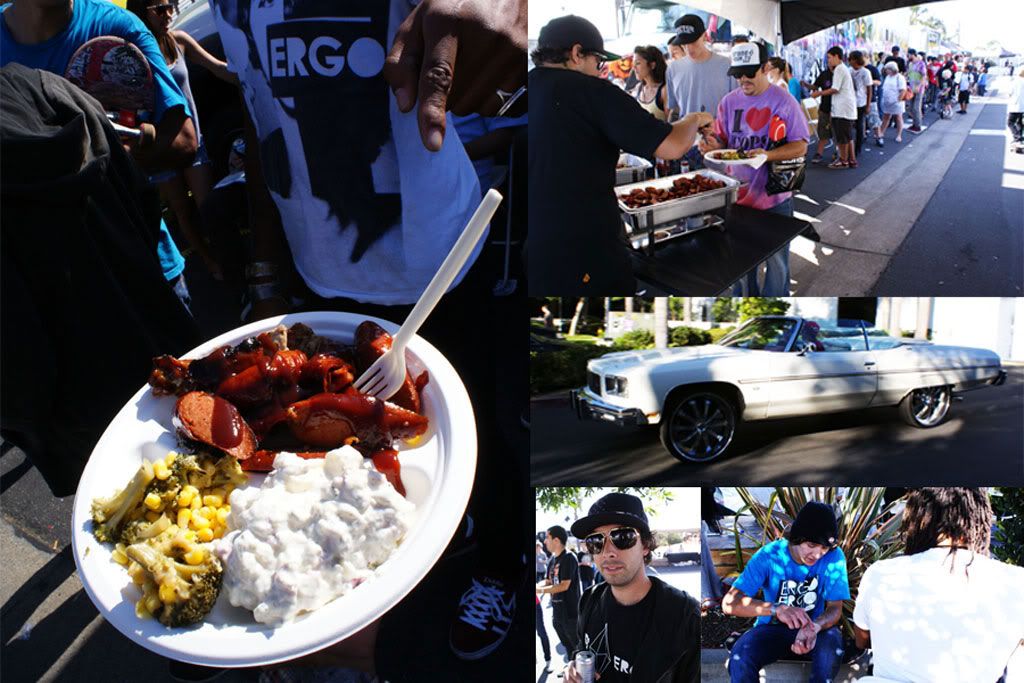 Gotta hand it to the good folks at Volcom for hosting this event and doin' it up proper. Yeah, course was good as always, plenty of chairs, good judges, cold drinks yadda yadda whatever. What really made this event: the food! They were serving up fresh grilled chicken, sausages, broccoli with corn and cheese, and even potato salad goddamnit! I LOVE potato salad holmes! Shawn ate so many servings of "the goods" that it threw off his equilibrium and he slammed and injured his wrist! No sweat, just skated on through to the semis like it ain't no thang.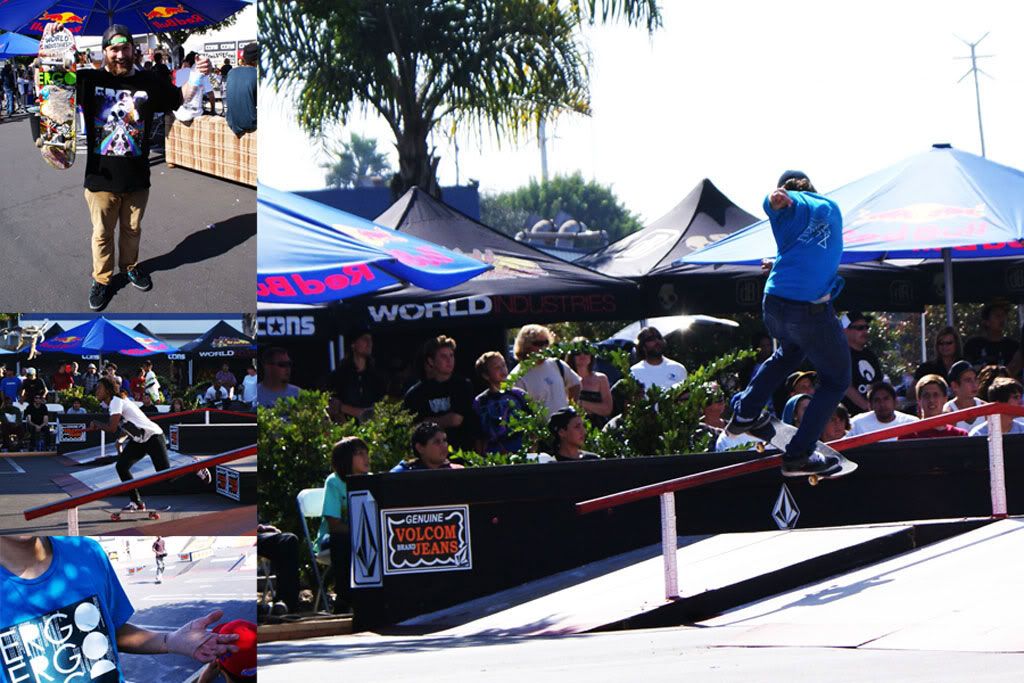 Andrew Cannon got into the spirit of things and was serving up a feast of shred in this number. I wasn't sure if he was supposed to be a friendly pilgrim or an overgrown gothic leprechaun.
Norman Woods gots hops. He ollied about 5 times and walked away with a couple hundo in the high ollie contest. Norman was shredding all weekend, he woulda taken first in the ollie contest no problem but he wanted to give the other homies to enjoy a bit of the victory juice he's been sippin' on lately. I've seen Norman ollie a whole 4ft quarter pipe from flat ground for fun, Son!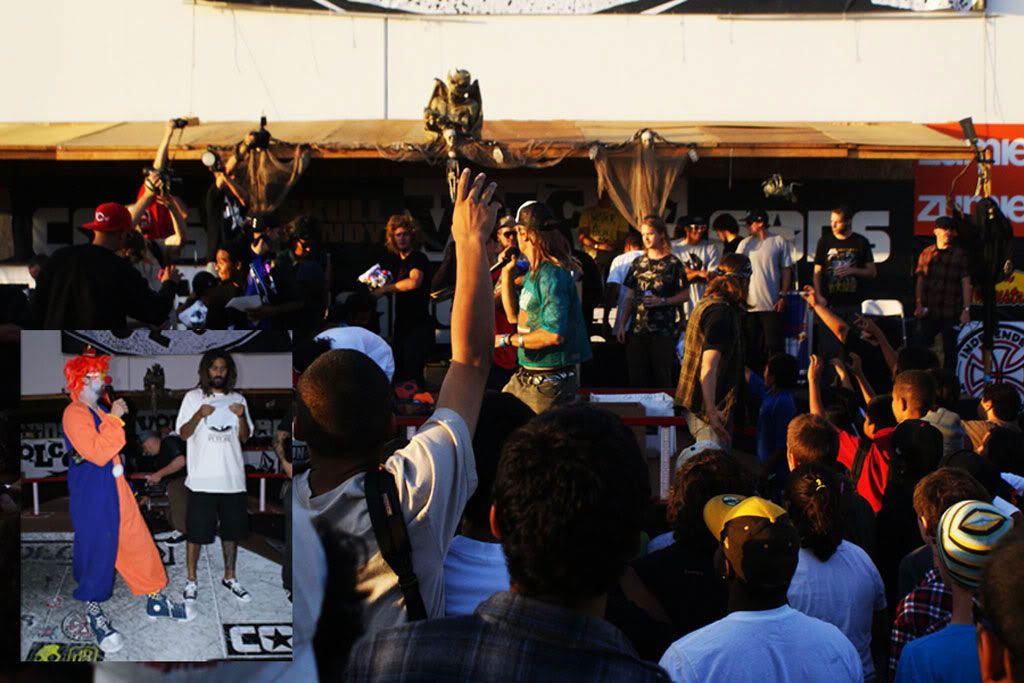 There's nobody better than the Skate Park of Tampa dudes, they never fail to hold a killer and fair contest and never disappoint the crowd, hilarious commentary and product showers for days!
The weekend of the contest happened to fall on the birthday of one of San Clemente's most notoriously pissed off characters and my best buddy, Derek Jones of the MuckRunners. After being bombarded by birthday shots by the local salty dogs at the corner bar, Pinche Derek thought it'd be a radical idea to take the motorcycle for a spin around the ol' loop at State Park! I thought it'd be pretty radical if he kept all his limbs by NOT taking a spin on the bike and this led to some confusion and frustration. I awoke the next morning to find that I received a little present from Grab and Smash himself, a freshly shattered windshield, stoked!
The piggy wiggies patrolling the departure gates at LAX didn't like my present from my pal and decided that instead it'd be really fun if they held us long enough for Shawn to miss his flight back to Missouri and it'd be cool beans to have their homies at Bruffy's Tow to come over and take my car to their place! Sweeeeet!
All jokes aside, we all had a thoroughly enjoyable weekend spending great times with great friends, hope next year is as much fun but a little less "shatter".